What is a 15-Minute City? Exploring the Benefits, Limitations & More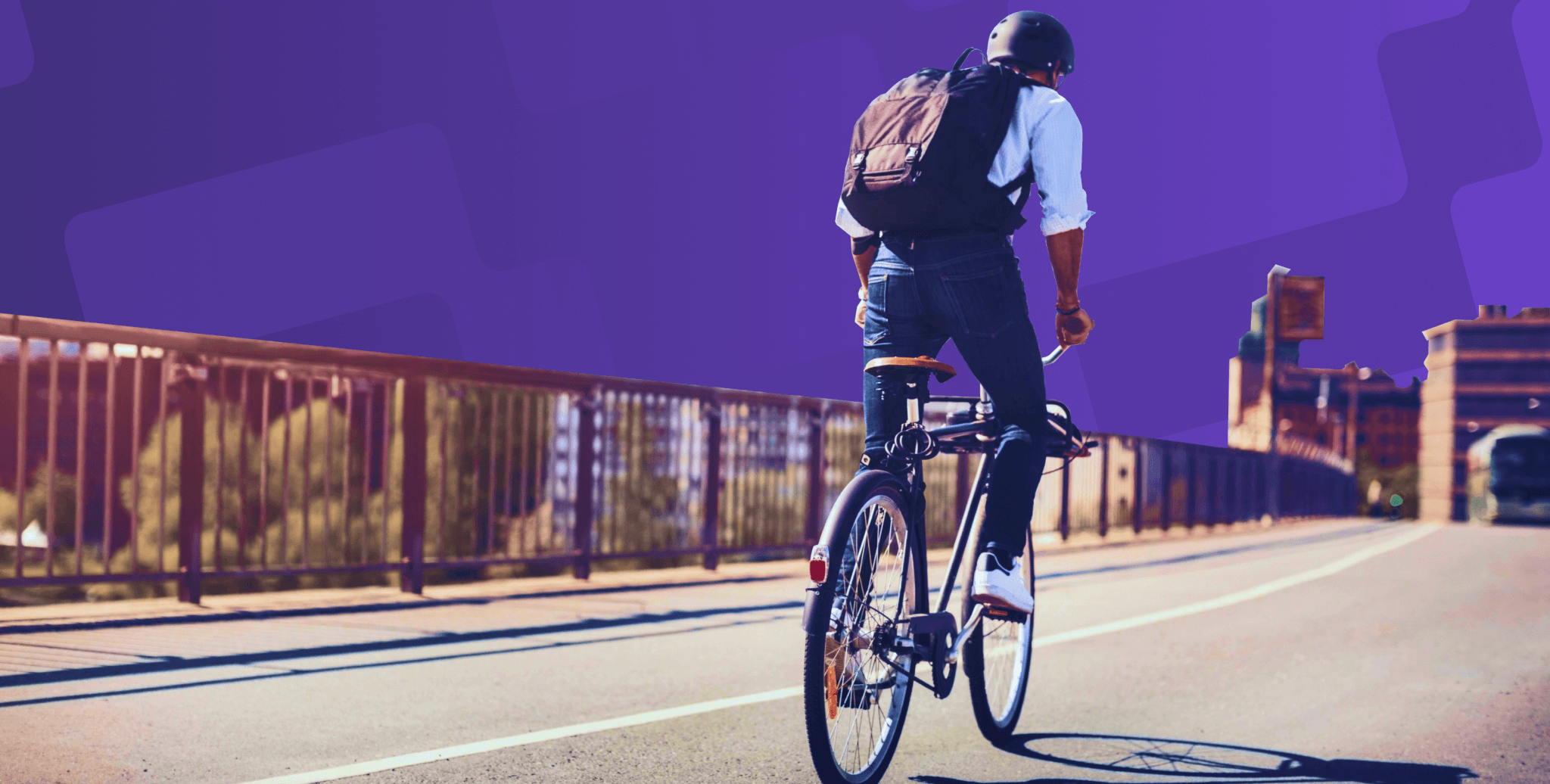 In this blog, we will briefly understand what a "15-minute city" is, why it is needed and some examples.
Understanding the '15-Minute City'
History
Walkability and community living have always been given primary importance in urban planning discussions. But it was not until 2020, when Paris mayor Anne Hidalgo included a plan to implement the "15-minute city," that the concept started gaining significant international traction. Since then, a number of cities worldwide have adopted it, and many researchers have used the model as a spatial analysis tool to evaluate accessibility levels within the urban fabric.
To rebuild cities after the COVID-19 outbreaks in July 2020, the C40 Cities Climate Leadership Group published a framework for the implementation of the 15-minute concept, highlighting specifically plans implemented in Milan, Madrid, Edinburgh, and Seattle.
What is a 15-minute city?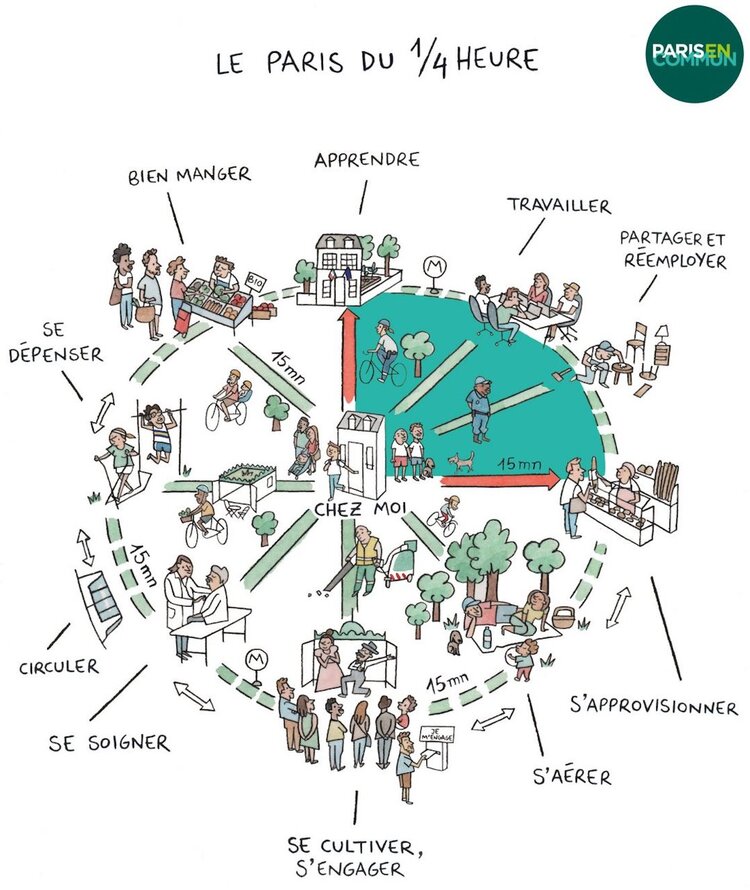 The term "15-minute cities'' imagines cities where most daily necessities and services, such as work, shopping, education, healthcare, and leisure, are accessible within a 15-minute walk or bike from their homes. The concept won the coveted Obel Award in 2021.
The approach is an urban planning equivalent of human-centered design. It puts people's needs, not their speed of travel, at the forefront of planning decisions. The process involves the planners looking at where an individual lives and where they need to get to. Then, the approach aims to figure out how to retool the neighborhoods to get the kind of "hyper proximity" that makes urban living accessible. The concept puts the home at the center of urban spatial relationships.
Carlos Moreno's 15-minute city framework highlights four key characteristics:
Proximity: Destinations must be close to each other.

Diversity: Provision of a wide variety of urban amenities close to one another's vicinity.

Density: There must be enough people to support a diversity of businesses in a compact area.

Ubiquity: The city should be affordable for anyone who wants to reside in it.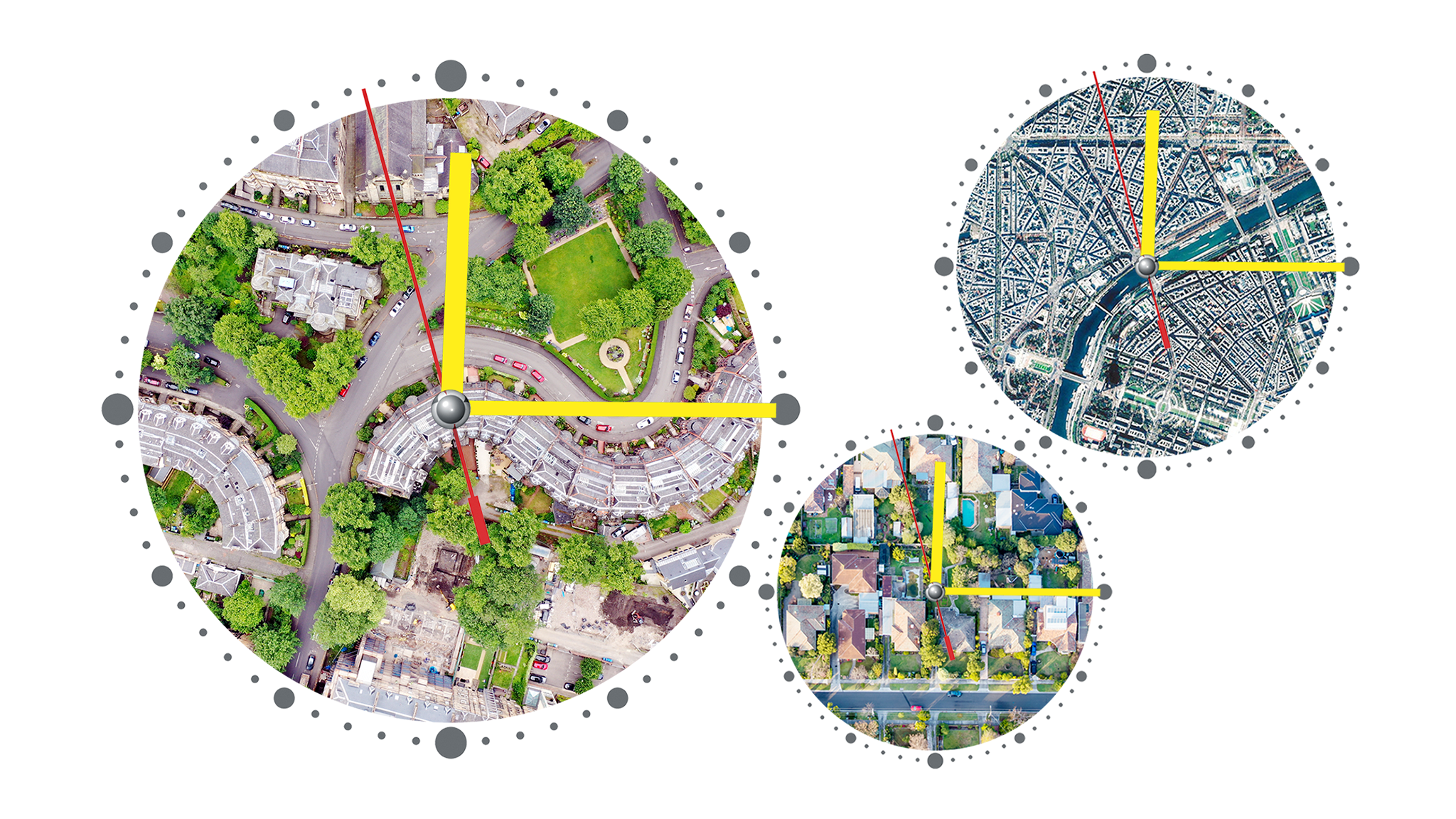 Why is a 15-minute city needed?
Throughout history, transportation and urban planning discussions have given precedence to pace rather than quality of life. But this focus is misrepresented as cities are not fixed entities. The history of cities and work commutes shows that as the scope of travel increases, our cities spread out. This means that the citizens end up spending as much time traveling as before, only at faster speeds over longer distances.
Urban planners need to realize that mobility, or how far a citizen can go in a given amount of time, is not a sustainable solution. In the United States, the Government's focus on mobility has redirected an investment of billions of dollars into the transportation infrastructure. However, this investment has not led to any improvements in terms of accessibility.
The importance here needs to be given to "accessibility," - how many facilities citizens can get access to in that time. This is where the concept of a "15-minute city" comes into play.
Benefits and Limitations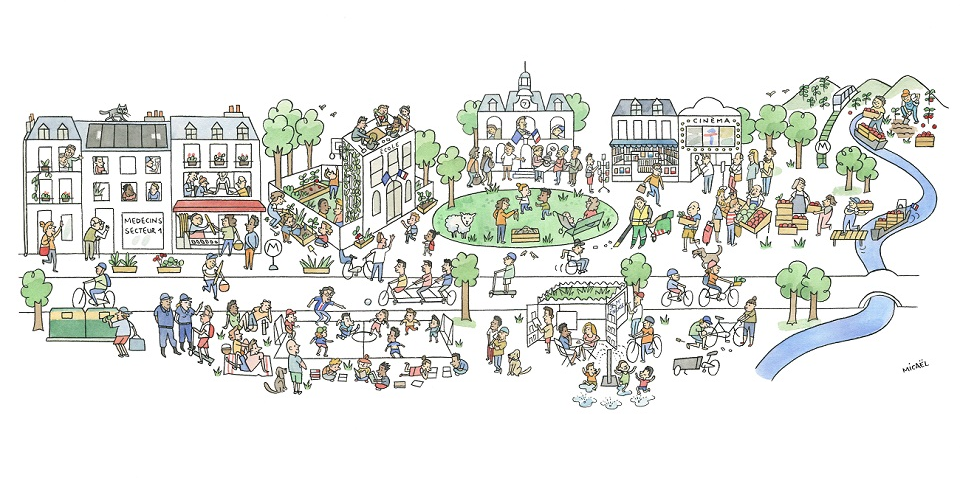 Benefits
Greater accessibility: The central advantage of the concept is enhancing accessibility towards living, working, commerce, healthcare, education, and entertainment. This is the primary reason why people choose to live in cities.

Reduce vehicle dependency: By bringing neighbourhoods closer, the approach aims to reduce car dependency. This also helps promote physical activity (walking and cycling).

Improve air quality: Less transport means reduced carbon emissions. More green spaces also ease the urban heat-island effect, reduce flood risk and improve biodiversity.

Equitable planning decision: The concept results in a much more equitable planning decision. Over time, it is likely to make transportation investments less costly, as pedestrians and cyclists are much cheaper to provide infrastructure for.

Better health and well-being: There are numerous physical and mental health benefits of active travel, cleaner air, easy access to healthy food options, and quality green space.
Limitations
Equity: Plans to convert neighbourhoods into 15-minute cities can lead to gentrification. This means that poorer residents can be forced into less walkable areas of the city.

Feasibility in areas with low population density: The concept may not be feasible in areas with low population density or in low-income communities where transportation options are limited.

Difficulty in implementation: This is because the land-use patterns and infrastructure of established urban areas are already in place.

Financing: Funding for the switch to 15-minute neighbourhoods can be a considerable amount in the infrastructural budget, especially if they are to be built from scratch.
Check out What is BIM and Why architects love it
Examples of a 15-minute city
There are already 16 cities worldwide that have implemented the "15-minute city" concept or similar ideas. The approaches vary from 20-minute concepts to 10-minute ones. Let us have a look at some of these examples:
1. Paris
In Paris, 66% of the public space is dedicated to the movement of public transport. This is ironic as individual cars only provide mobility to 17% of the country's population. Since her appointment in 2014, the Mayor of Paris, Anne Hidalgo, has focused on improving this condition and making Paris a better living space for its residents. In February 2020, she announced that she aspired to turn Paris - a city of 2.2 million inhabitants - into a ville du quart d'heure, a 15-minute city. To achieve this, Hidalgo even appointed a commissioner. The program spanned a wide range of public investments across the transportation and sustainability sectors to strengthen neighbourhood-level governance. The results included increased air quality, enhanced mental health of citizens, and reduction of travel time in half.
2. Barcelona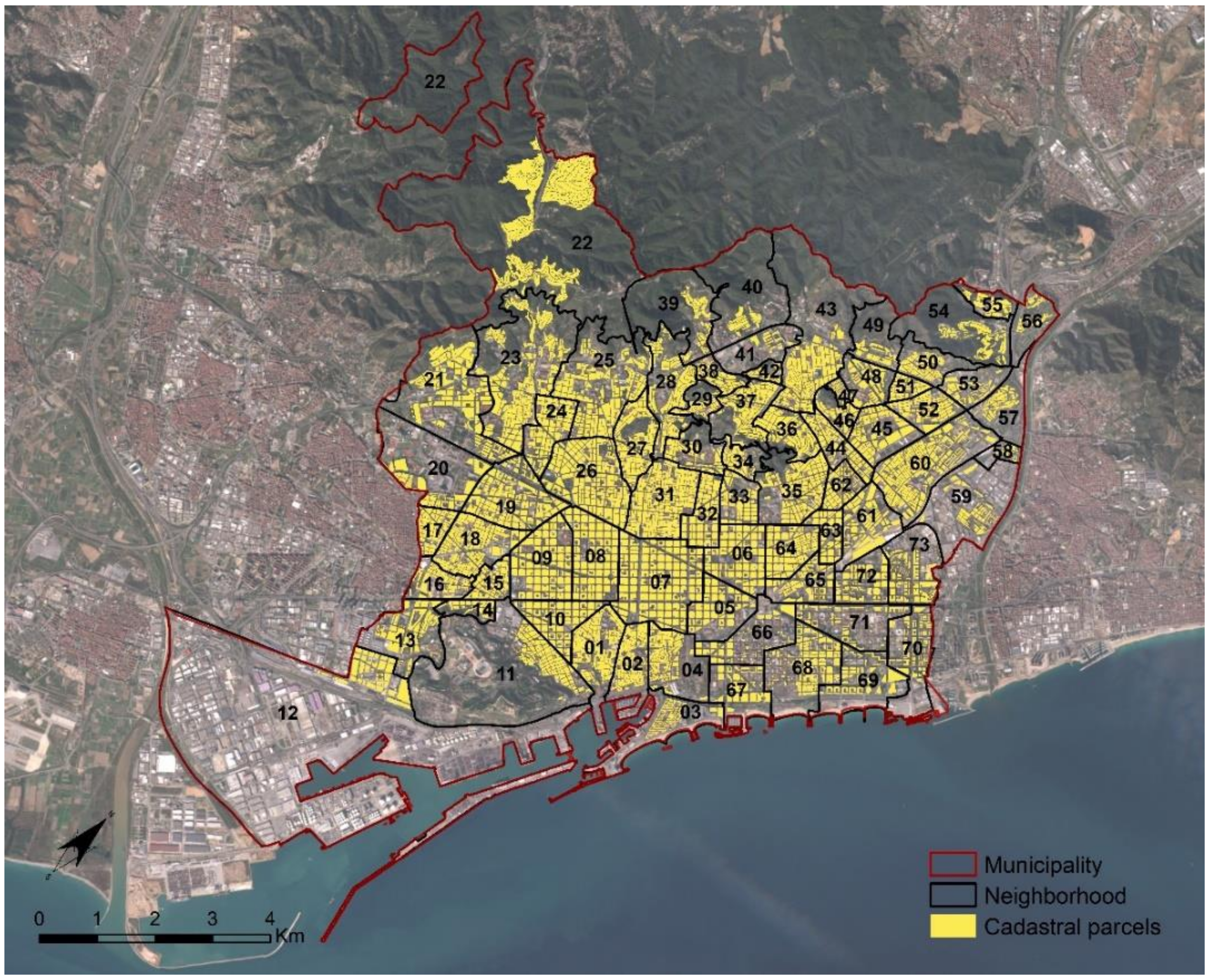 In Barcelona, 60% of the public space is used to accommodate transportation systems. This investment is contradictory to the fact that only one out of four trips is made by a car. According to Deputy Mayor, Janet Sanz, 90% of the population favours measures to improve public spaces for pedestrians and bicyclists. Thus, the city aims to allocate space for healthier purposes.
3. New York
New York is well on its way to becoming a 15-minute city. Former transport Commissioner, Janette Sadik-Khan, finds the next step for New York to reclaim the streets to use them as open-air classrooms, poll-centres and outdoor dining venues. The urban planners viewed the city's 9.656 km of streets as critical assets that could be used for more than just moving and parking cars. In less than seven years, 644 kms of bike paths were developed, 70 citywide plazas were launched, and 73 hectares of former street space were developed.
4. India
There are five Indian cities in the C40 Cities group, a group of 96 cities that have declared "15-minute city" as their prime agenda to ensure green. These include Bengaluru, Chennai, the Delhi NCT, Jaipur, and Kolkata. As an example, the historic walled city of Jaipur was developed around 294 years ago. The essential services and recreational facilities, along with workplaces in the walled city are accessible within 15 minutes from housing areas. Further, the ground floor of the residential buildings in the city is reserved for commercial use, while the upper floors are for residential uses. The example highlights how the concept already had its roots in India.
In Conclusion
Designing and implementing the 15-minute city concept requires a multi-disciplinary approach involving transportation planning, urban design, and policymaking. This is not a project just for urban planners or government agencies. Organizations and groups, including the government, neighbourhood leaders, nonprofits, entrepreneurs, investors, business entities, and academia must collaborate.

Walkable and bikeable neighbourhoods need to be the norm, not the exception, and the "15-minute city" concept needs to occupy a central role in our urban discussions.

In urban planning, BIM is used as an analysis tool to create information-rich, digital models consisting of streets, buildings, water supply, parks, and other infrastructure. These models are then visualised and analysed to assess the proposed development's efficacy and impact.

Want to get started with learning BIM?

Novatr's BIM Professional Course allows learners to explore BIM with industry-relevant subjects and projects, taught in both live and recorded sessions.

The learners can:

Become BIM experts in just 6 months of part-time, online study.
Master 7+ BIM software and industry workflows.
Learn from AEC professionals leading BIM at top-tier firms worldwide.
Work on a live, RIBA-structured capstone project to practice your skills.
Get placement assistance to land jobs in globally operating BIM firms.
Head to our Resources page if you want to get more insights on AEC careers, software and tools, and industry trends.
Understand how BIM can help your career!
Speak with an Expert Now!
Subscribe to Novatr
Always stay up to date with what's new in AEC!
Get articles like these delivered to your inbox every two weeks.