From the Founders' Desk: Our Journey So Far

The Inception of Oneistox
Let's start at the very beginning.

Being a second-generation architect, I grew up spending time in my father's office and visiting construction sites. Witnessing designs come to life from paper to on-site sparked an interest in me for the profession. But it was only when I was preparing for engineering entrance exams after my 12th standard that I realised I wanted to do core architecture, and that's how SPA Delhi happened in 2013.

The story began in the corridors of the School of Planning and Architecture (SPA) Delhi. SPA was the breeding ground where I developed a passion for entrepreneurship. It's also where I met my co-founder Vipanchi Handa on the very first day, and there was an immediate connection in terms of our ideas, visions, and goals. In fact, we started our first venture called Terra Arc in 2015, where we aimed to make bricks with a lower carbon footprint and at a lower cost. Though the venture had interested investors, being young, we were unsure of running a business and decided to shelf Terra Arc.
"For me, this company has never just been a business. It has been more about the people and the relationships we've forged through the ups and downs of building Oneistox. Every individual joined the mission with a passion to make a difference and has contributed to our growth. But if truth be told, my favourite part of the whole journey was hopping around cities and conducting workshops in the early days. We felt like a band on tour 😛. That's how the feeling has been every single day since—rock stars on a mission to change the world. We've always followed a very iterative approach with everything we do and that's how Oneistox evolved, paving the way for Novatr. All I can say is buckle up, because a storm is about to hit the AEC industry and change it for good. I can't wait to see how this next chapter unfolds."
– Vipanchi
Fast forward to my fourth year, when a few of my friends and I pulled off something crazy that gave me the confidence to build and run a business. In a matter of five days, we turned a one lakh investment into six lakhs' worth of sales. I'll spill the beans on the details someday over coffee, perhaps 🙂. It was also around the same time that the visa for my internship in Spain fell through, and I decided to work at a startup founded by my mentor to learn first-hand how tech companies are built and run. After spending two and a half years there, I quit in 2019.
Thereafter, Vipanchi and I started working on a start-up idea, and while we were ideating, I started receiving requests from numerous colleges to conduct model-making workshops. So we temporarily halted work on our start-up and focused on conducting workshops. We realised we needed someone who knew the ins and outs of marketing to make our workshops big. That's when my third co-founder, Chaithanya, came into the picture.
A batchmate in SPA, Chaithanya was someone with whom I had not interacted but witnessed his marketing genius from afar. From making sketchbooks to baking, he single-handedly ran multiple businesses while we were in college. When we reached out, Chaithanya was working for a US-based marketing agency, so he committed two hours each day. There was still a tech person missing who would help us set up the website, and Chaithanya onboarded his best friend from college, Sunair. Sunair was always tech-savvy. While the rest of us were busy making our drawings by hand, he was already coding for them.
"I woke up one day to a random text from HK 4 years ago, and what started as a kind of freelance gig for me has today turned into a collective dream. I already had a well-paying job, but after seeing the initial output of our efforts, my trust in the company's vision was reaffirmed. There were many ups and downs, but, if you ask me, I'd do it all over again. We were a bunch of kids who assembled to do something meaningful, and the highlight for me has been the collective growth all of us have witnessed throughout our journey. We are stepping into another phase with Novatr and I cannot imagine a better team to do it with."
– Chaithanya
Thus, Oneistox was born!

We set up our first office in Vipanchi's father's 30-year-old basement office. After a few hits and misses, workshop registrations started pouring in. People flew in from Nepal, Bangladesh, Sri Lanka, the UK, and Dubai to attend the workshops, giving us confidence that we were on a path that could potentially impact a lot of careers. So, we huddled back together, scrapped the start-up idea, and decided this was what we wanted to do.
The next phase was chaotic. We took up office space for 20-25 people, planned close to 60 workshops across the country for the 2020 summer, and then COVID-19 hit. A one-month anticipated delay turned much longer, and eventually, by December 2020, we decided to shut down all operations.
With the transition to digital-first being the emerging trend for most industries during COVID-19 and the growing buzz around ed-tech, we decided to explore and evaluate the space of online learning. But we wanted to do more than just offer courses. We wanted Oneistox to be the harbinger of change. So in January 2021, we launched our first courses and started seeing tremendous growth by April 2021. This is when we began working towards raising a seed round. We wrote to approximately 50 investors, and Amit Ranjan, the founder of SlideShare, wrote back saying he was interested in our mission and wanted to help us build for it.
This is where the narrative started to drastically change for us.
During the diligence phase of the seed round, many investors raised the concern that we lacked a technical co-founder. After many interviews with over 50 potential candidates, I met Mehul, our fourth co-founder and CTO, through a friend. We wanted someone who had skin in the game and resonated with our vision, and Mehul was exactly that. After graduating from IIT Madras in 2019, Mehul spent two years helping CureFit build its fitness tech product.
I'd say Mehul is also our good luck charm because at the same time he moved to Delhi to join us, our Y-Combinator acceptance also came through. It was like a go-ahead from the universe 😛. Since then, things have just been going north for us—new courses were launched, the first round of funding was secured, a partnership with Harvard University was formed, and we experienced an aggressive 30%-35% month-on-month growth in revenue.
"The AHA moment for me was finding like-minded people with the same drive and passion to do something that creates a tangible impact in people's lives. I never shy away from challenges and the same ethos reflected across the table. Because of my tech background, I knew the potential of well-built products. When the opportunity to lead the tech front of the company presented itself, I was super excited firstly because what we were on a path to achieve was unconventional and future-thinking. And second, I finally got the chance to use my knowledge for the greater good. I'm extremely proud of what we've achieved with Oneistox and excited for what's next in store with Novatr."
– Mehul
The finish line, however, was still not in sight.
The Birth of Novatr – From Upskilling to Disrupting the Industry
What started as model-making workshops matured into Oneistox upskilling AEC professionals. But as we interacted with hundreds of learners, a dire need to bridge the gap between talent and opportunities came to light. This realisation was heightened when we saw our peers struggling to navigate their careers through the fragmented industry. Our learners too often expressed reservations regarding future opportunities. So we evolved from a purely ed-tech organisation to one that connected the right talent with inspiring hiring partners.
We wanted to build for people who build the built environment.
At the root of the whole AEC problem lies the lack of digitization. Professionals in other heavily digitized industries are paid more simply because the output is 60% to 70% higher for the same amount of man-hours invested compared to the construction industry.
Also read: The Data that Drives Us

On the flip side, there is a large expanse of possible future opportunities that may remain untapped and out of reach of the AEC industry if accelerated digitisation doesn't begin right this moment. Due to the rapid population growth, the next three decades will see the same amount of construction that has happened in the last two centuries. The volume is daunting.

What will facilitate it? Adoption of technology. What is not happening? Adoption of technology.
This is where our dream and vision got bigger—bringing a paradigm shift in the way the AEC industry operates. We realised it was time to retire Oneistox and forge the path to AEC's transformed future with Novatr.
With Novatr, our mission is founded on collaboration, globalisation, and innovation – with the latter serving as the basis for all our endeavours.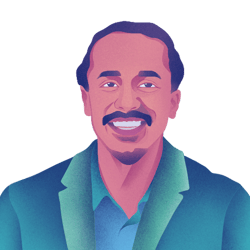 Our whole journey, through the many ups and downs, was founded around one idea: do something of our own that makes a difference. And Novatr is the first step to starting the revolution that will transform the face of the AEC industry. With innovation and tech-first skills at the forefront, our vision is to evolve Novatr into a construction technology company. We're super excited for this next phase and can't wait to disrupt the status quo and cause massive ripples that will crumble the legacy problems currently plaguing the AEC industry!
I'm Harkunwar Singh, co-founder and CEO of Novatr and I invite everyone who dares to disrupt to jump aboard the Novatr ship—we're changing the rules of the trade!
Subscribe to Novatr
Always stay up to date with what's new in AEC!
Get articles like these delivered to your inbox every two weeks.